LOU-RICH SERVICES
Contract Manufacturing. Engineered for Success.
Are you looking for a partner in manufacturing?
Fabrication & Welding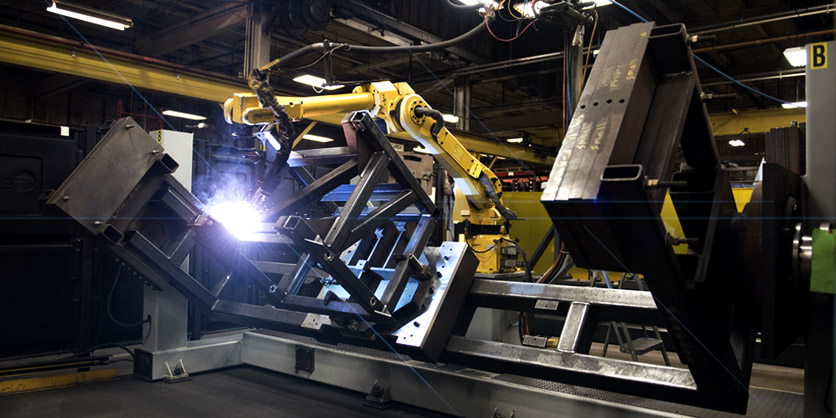 Custom and complex metal fabrication is a core competency at Lou-Rich. Our employee-owners are dedicated to going the extra mile to ensure each bend, each weld, each and every project meets your high expectation. From light gauge sheet metal to heavy plate stainless steel, and virtually everything in between, Lou-Rich welders and fabrication specialists do it right.
Here is an overview of our key equipment and capabilities. There is also a PDF document of our Technical Capabilities at the bottom of this page you can download that has more information. Better yet, get in contact with us and let's talk about your next project.
Capabilities & Equipment Overview:
6000 watt Fiber Optic Laser

Efficiently cuts virtually all gauges of material up to 1" thick
Automated material handling system for quick turns

Two 2500 CO2 Flat Lasers

Material size up to 5' by 10'

4000 watt Tube Laser

Versatile material usage; square or round

Metal Forming

90-ton Brake Press
175-ton Brake Press
60-ton Mechanical Press
300-ton Mechanical Press

Stamping Equipment

110-ton Mechanical Press
300-ton Mechanical Press

AWS Compliant Manual Welding

MIG Weld
TIG Weld
Spot Weld

Robotic Welders

Five robotic weld cells for higher volume projects and repeatable weld placement and bead control
Machining Solution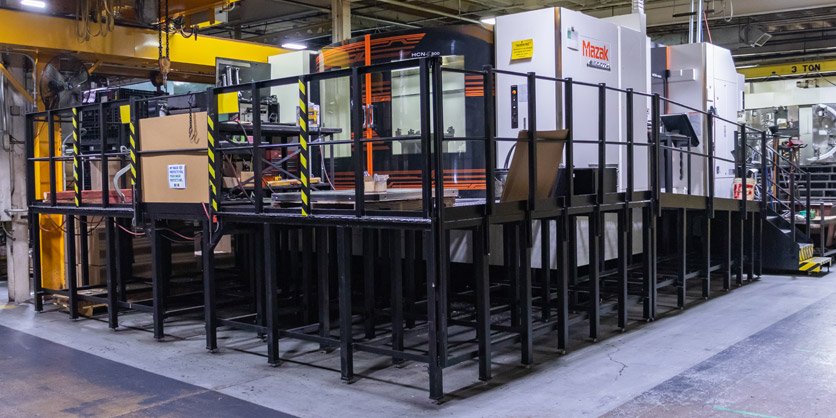 With nearly 50 machining centers, Lou-Rich has a wide range of capabilities to meet the most demanding customer projects. Precision machining of simple turned parts, or large complex multi-axis requirements are all within range of Lou-Rich. Many of our operators have been making great parts for decades, and our customers keep coming back because of our unrelenting commitment to quality.
Download the PDF of our Technical Capabilities document at the bottom of this page to get even more information than what is listed here. If you want to get a firsthand look at our machining area, reach out and set up a time to come tour Lou-Rich. We think you will like what you see.
Capabilities & Equipment Overview:
Horizontal Machining

CNC machines from 400MM to 1250MM
Flexible Machining Centers (FMC) for quick change, nimble production
5-axis Horizontal Machining with robotic loading for larger volume projects
Automated tooling

Vertical Machining

Over 20 Vertical Mills
5-axis Vertical Machining Center with robotic handing
Multiple machines with automated pallet changers
Multiple vertical machines from 2-axis to 5-axis

Turning Equipment

Swiss Turning machines able to manufacture parts in a single operation
Multiple Lathe Bar Feed machines set up in a cell
Multiple Twin Turret Lathes
Multiple Single Turret Lathes

Fixture Design and Build

In-house design and build of all custom fixtures

Technical Support

Dedicated programming and maintenance staff for maximum uptime
Latest in CAD software, technology and tooling
Mistake proofing program to ensure quality on every part
Painting & Finishing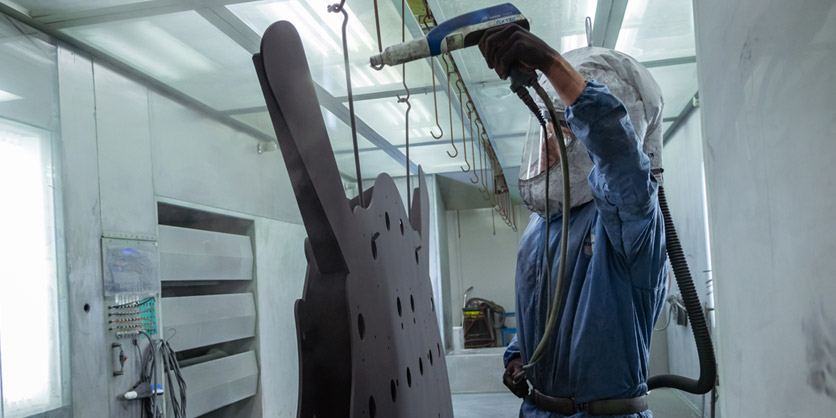 The Lou-Rich paint team turns out beautiful parts every day from one of our three application booths. The innovative and efficient paint line and 8 stage wash system was designed just for Lou-Rich and installed in 2012. Our customers appreciate the convenience and quality of our powder coat paint system being under that same roof as the rest of our manufacturing.
Our Technical Capabilities document at the bottom of this page can be download and has additional information about our robust paint and finishing. We welcome a chance to run sample parts, or review specifications on new projects. Give us a call and let's talk.
Capabilities & Equipment Overview:
Powder Coat Painting

8 stage wash system
Currently working with most leading paint suppliers
Environmentally friendly system
Able to color match and work with custom colors
Finish options ranging from glossy to wrinkle
Paint line maximum part size of 4' x 6' x 10'

Liquid Paint

Capable of producing limited liquid paint projects
Quick change from Powder for efficiency

Acceptable Materials

Sheet metal
Castings
Aluminum
Plastic
Stainless Steel
Some exotic metals

Metal Finishing

State of the art industrial deburring
Parts washing, cleaning, and drying

Quality Commitment

ISO Certified Class 8 Clean Room for testing and research
8000 square foot Process Development Lab
Hirox Digital Microscope capable of 3200x magnification
Assembly Solutions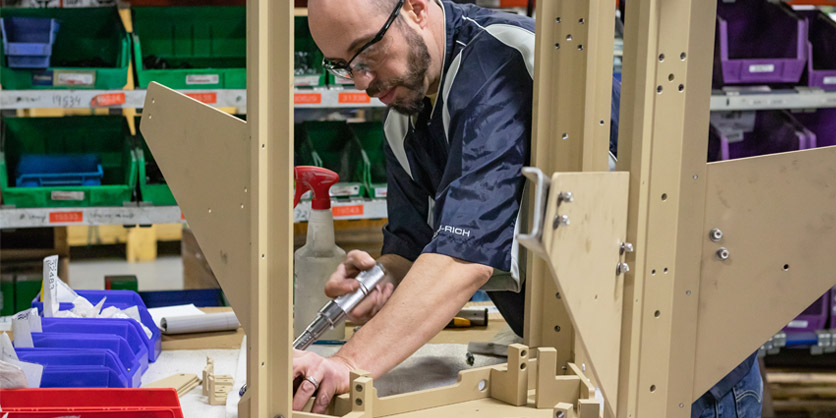 As Lou-Rich continues to grow, our customers continue to bring us additional challenges, with assembly projects being one of the fastest growing areas of our business. Not only can we manufacture, machine and paint parts, we can also complete sub-assemblies or even finished goods assemblies.
Every assembly project is different, and our team accepts the challenge of efficiently putting together a project. If you have need for something manufactured and assembled, we should review it together. Download the Technical Capabilities PDF at the bottom of the page to learn more.
Capabilities & Equipment Overview:
Assembly Cells

Custom design work cells created for each project
Leverage Lean principles to maximize product flow
Well trained employee-owners are always on the look-out for improved systems and ideas

Assembly Projects

Electro-mechanical
Weldment Sub-Assemblies
Manufactured and purchased component projects
Finished Goods with Inventory Warehousing and Management

Quality Management

Dedicated 35,000 square foot facility
Operated under our ISO 9001:2015 Quality Management System
Custom and pneumatic tools to ensure proper fit every time
Complex Manufacturing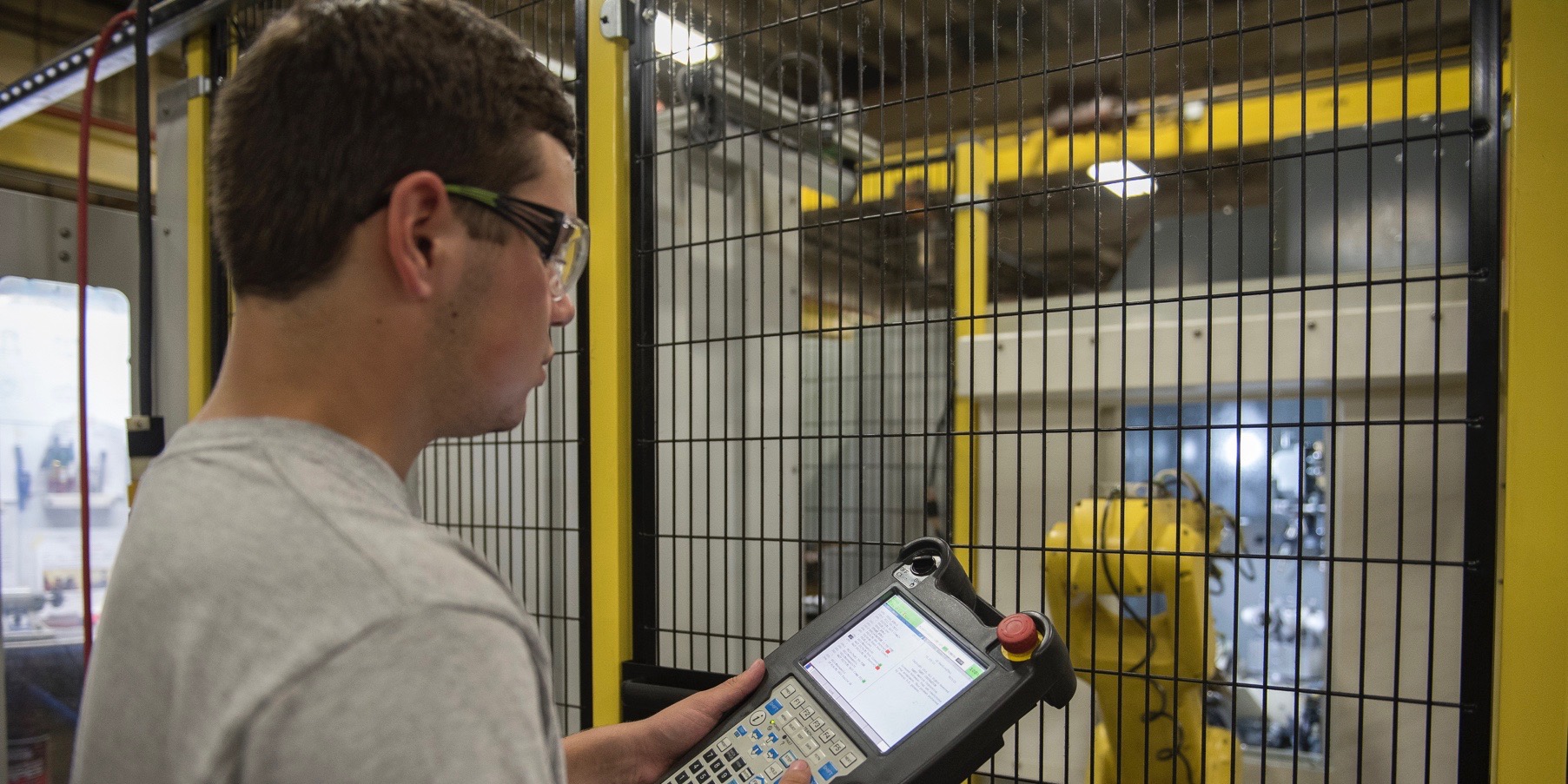 Back in 1972 Lou-Rich started as a tool & die shop, and over time as our customers' requests became more complex, so did our capabilities. Today we thrive on building things that other contract manufacturing companies shy away from. We talk the language of engineers because so many of us are engineers. But even more important than that, Lou-Rich is chock full of problem solvers.
Here are a few things that make Lou-Rich highly capable of taking on very complex and challenging projects. The Technical Capabilities document that can be downloaded at the bottom of this page will provide even more information, but the best way to find out if Lou-Rich is the right source for your next project is to reach out and strike up a conversation.
Design for Manufacturability

Part of our Design Review Process is to identify potential areas of improvement
Actively seek to drive out cost through material utilization, reduced lead times, and design changes
Cost savings are passed on to our customers and the majority of our complex projects will see cost downs over time

Process Control

ISO 9001:2015 Standard achieved in March 2018, with original ISO Certification in 1998
Well documented Engineering Change process to ensure products are always produced to the current revision
Process Maps and other Lean tools are applied
Detailed Work Instruction are created as a guide for correct manufacturing procedures
Costed Bill of Materials (CBOM) is generated during the quote stage to help identify largest cost drivers, areas of potential improvement, and to document every detail required to effectively produce the needed parts

Project Management

One of six Quality Technicians is assigned to every complex project
On-site Stratasys 3D FDM printer for rapid creation of parts as needed
In-house fixture design and build eliminates any possible outside errors and reduces lead times
Engineering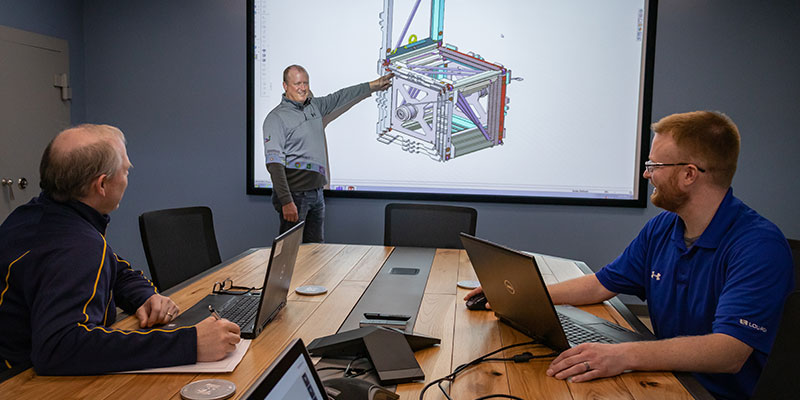 Our Program Managers and Project Engineers are focused on successful implementation and on-going production of each of our projects. More than 20 highly skilled engineering and support personnel work closely with all other areas of the business to guide each project from quote to completion.
Talk to someone on our Engineering staff to learn more about how we manage customer projects or download the PDF on our Technical Capabilities at the bottom of the page.
Capabilities & Equipment Overview:
Project Management

Project charters define scope of work, key milestones, identify resources and project team members
Scheduled status reports track project performance and timelines
One client contact point for easy communication throughout the life of the project

Product Design

Complete product engineering documentation and specification
Product design reviews continuously track requirements throughout the life of the design process.
All processes and documentation managed under ISO 9001:2015
Concept development and strong client collaboration

 Manufacturing Process Development

Strict methodology to calculate, document, and implement the correct manufacturing process
Best Practice Manufacturing is followed from the start of project planning, into product design, and throughout the product life cycle
Engineering works closely with production to identify continuous improvement targets that lead to overall project improvements
Design for Manufacturability mindset with ideas that lead to improved quality, reduced price and shorter production times
Our Commitment to Quality
Your Satisfaction is Our Goal
We are committed to providing quality products and services that consistently meet your expectations. We continually monitor the effectiveness of our quality system and focus our resources on continuous improvement to attain our quality objectives and meet our customer satisfaction goals.
Whether we are developing new products, launching production, deploying people, or delivering shipments, we take every measure to bring the best products to market, faster, and with greater value for you.
ISO 9001:2015 Quality Management System
This framework for our quality management system was developed by our cross-functional team. It is incorporated throughout all of our processes, audited annually by DQS and monitored by internal audits and performance measurables. We provide significant competitive advantages in the global marketplace via our emphasis on high quality, advanced technologies, and innovative solutions.
Quality Assurance
Multiple CMM equipment in climate-controlled setting
Production Part Approval Process(PPAP)
Gage Calibration Program
Internal Auditing
Certificates of Compliance
RoHS & REACH
Utilizing Niton XRF Analyzer
Metrology Equipment
Electronic and mechanical hand-held measurement devices
Monitor Critical To Quality Dimensions (CTQs)
Process Audits
Inspection: First Article, Receiving, First Piece, In-Process
Functional Parts Testing
Trend Analysis for Key Business Measurables
Visit our YouTube channel to view the following capabilities: Engineering for manufacturability, precision machining, powder coat and liquid painting, fabrication & welding, assembly, sourcing, fixture design/build, and inventory management.